Situation
When Time Warner Cable merged with Charter Communications, they created a new consumer-facing brand for the venture – Spectrum. With this new brand came a host of requirements, including new retail signage and displays that would now need to feature the Spectrum logo.
Spectrum has retail locations throughout the Hudson Valley region, as well as the Western and Central NY state area. While this particular project started in the local Cooley team's area, it would need to be extended across all of the client's NY state locations.
Challenges
Following the merger, internal contacts at Time Warner were notified that going forward the ordering process would be handled through an internal system approved by Charter. If outside vendors were to be used, they would need to fit specific requirements including outstanding quality, comparable pricing, and dependable delivery.
The Cooley Group had already been established as a preferred vendor based on past performance within the account, and they were able to showcase how they could alleviate the possible pain points of rebranding, including consistency of the brand across the signage, materials to be used, measurements, and installation once completed.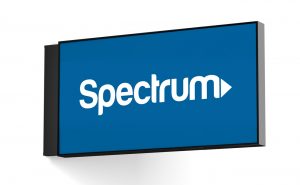 Solution
The process began by the Cooley team determining exactly what signage would need to be updated. This included outdoor signage, window decals, parking signs, banners, and payment drop signs.
Cooley worked with its preferred partner to visit Spectrum and measure for the signage. Based on those visits, they were able to recommend material upgrades or substitutions to best fit the needs of the individual items. After listening to what the past problems had been, the Cooley team also made recommendations for lockbox and key drop options.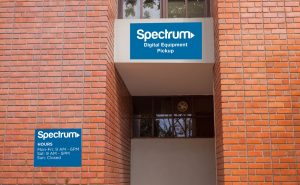 Spectrum's customers needed to have clear communication regarding the merger. Therefore the Cooley Group needed to move quickly to print and install the updated signage so that the public would feel comfortable when visiting the locations throughout the transition. The team was often able to operate within as little as a one-week timeline and deliver successfully.
Results
Internal contacts have been gracious enough to refer Cooley to other colleagues within the locations, and all have lauded the team's work. This will help to maintain brand consistency across the corporation for the customer. In addition, the improvements to materials and solutions to past pain points have saved other locations the trouble of research, trial-and-error efforts, and unnecessary expenses moving forward.